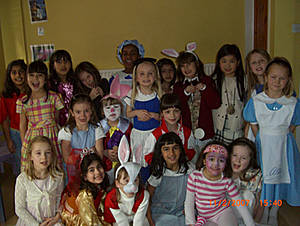 Do organising parties give you more stress than magic ?
Lets our party planners at Teach UK  take the strain by organising the next one for you and make it an event  to be remembered!
We cater for children from that very special 1st birthday to the 101  year old who is still young at heart .
We specialise in themed dance, drama  and music parties, murder mystery parties, learn to DJ parties, pirates, princess and jungle parties. The possibilites are endless.
up to 3 years
Nursery Rhyme/character parties
including creative movement to music with songs and games.
3 years – 7 years
Disney Parade / Zero to Hero / Jungle capers
We supply the costumes, develop a drama piece and teach the children a dance routine plus T-shirt painting.
7 years and above
Pop Princess / Sleuth n' Clues / Show Stoppers
Does your child think she or he can be the next Britney Spears or Jonathan Creek? Or maybe they want to tread the boards of Broadway? We can give them a party that allows them to show off their talents!
We can tailor the event to your child's imagination.
You choose the theme and we can do as much or as little as you like. 
Call for a no obligations chat.